Mission, Vision & Values
Mission
Our mission is to contribute everything is repaired in the shortest time. We want to provide the spare parts distributor and the Horeca technician with all the spare parts they may need to repair a machine, wherever they are. Always accompanied by the best service of our Sales Department, via our webpage shop or our physical self-service stores. Our customers' time is valuable, and our commitment is to help them not wasting it. Our know-how is an experience of more than 30 years in the market that recognizes us.
Vision
Growth: To be a leading company in the national and international markets.
To be capable of offering all the brands in the Horeca market.
To be the first choice of our customers.
People: To be a good place to work, accompanying people in their personal and professional development.
Productivity: To be an effective and dynamic company.
Values
Good service: our main goal is to give the best service to our customers.
Commitment with ethics and honesty.
Collaboration with our customers, suppliers and employees. Our relationship is a win-win, a mutual benefit to grow together.
Offer all brands and products entirely, the widest range of products in the world.
Trust in our customers.
We care about the environment. That is why we reduce our packaging at the most, adjusting it for each product we sell.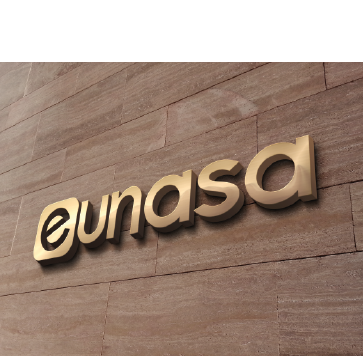 Eunasa today
Spare parts distribution
We are a wholesaler company based in Barcelona. We are specialized in the commercialization of spare parts, equipment and accessories for Horeca, offering the customer the possibility to either buy original or standard parts. Plus, we have a wide range of products in stock.
We have the Spanish territory widely covered, with a solid net of branches all along Spain (Madrid, Mallorca, Malaga, Canary Islands & Valencia). The sales in the rest of the world are also covered by our Export Department in Barcelona, currently expanding. We are exporting goods to more than 100 countries already, and we have international distributors that help us expand our company along the world.
We offer a great variety of sales channels where our customers can purchase any of our products. We accept orders by phone, by email, by our website or by our physical stores.
To sum up, we work and improve every day so our customers have their best experience.
More than 100.000 products & 600 brands available
We are specialized in the sale of Horeca parts, but also in selling equipment and accessories. We can either sell other manufacturers equipment or our own brand, Lucca.
Our database has more than 100.000 products and more than 200.000 manufacturer references.
You can consult more than 10.000 exploded views of Horeca equipment in our website, only available for our customers.
Our products are categorized in different ranges, machine types and product types in order to being easier to find. We have 14 ranges in our catalogue: Espresso, Gas-Cooking, Warewashing, Ice Machines, Refrigeration, HVAC, Auxiliary Equipment, Water Treatment, Vending, Laundry, Kitchenware, Washroom Accessories, Barista and Tools & Installation Supplies.
Do not hesitate to enquiry us with any product you need, our Sales Engineers will find them.
Self-service stores logistics
Our self-service system is revolutionary in our sector. The customers can choose the product and reach the cash register without bearing long queues. Besides, thanks to our new website, now they can consult from their smartphone the exact placement of the spare part in the store, saving even more time.
Our stores are designed to optimize the customer's time, with the best qualified team to offer the best service. Always growing, our warehouses have an 8.000m² total area.

Our catalogues
Barista Catalogue

Espresso Catalogue

Refrigeration Catalogue

Cooking Catalogue

Quick Guide Catalogue

Ice Machines Catalogue

Warewashing Catalogue

Equipment Catalogue

Vending Catalogue

Equipment Quick Guide
Download our catalogues